My Opinion : Josh Gordon and His Story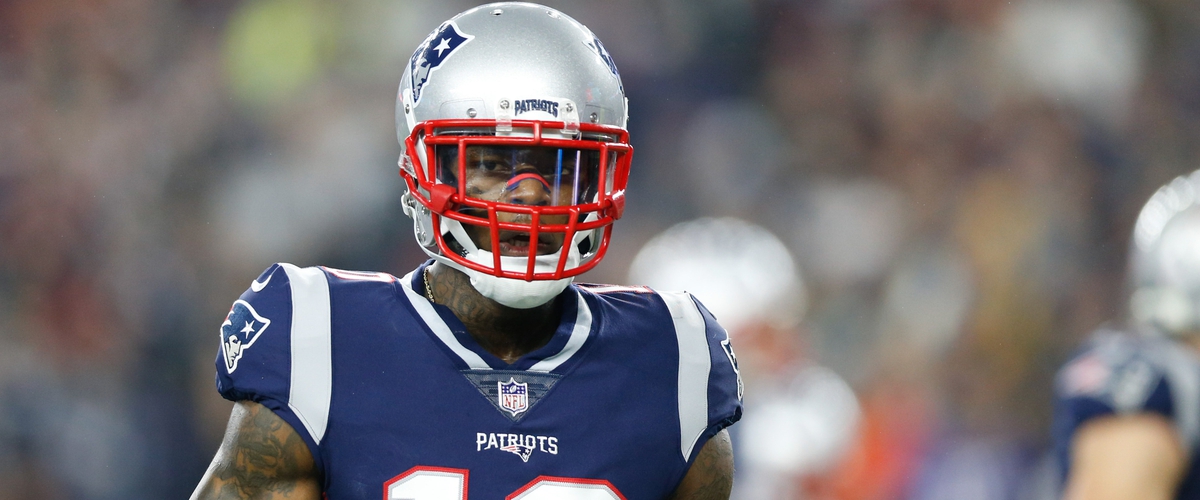 Throughout my childhood I was a huge Randy Moss fan. No idea why, just thought he was a freak athlete and I wanted to be the next Randy Moss. I used to sit in my room watching "Three Seasons to Glory" and Patriots games re-runs while throwing a football to myself in my room imagining I just ran a 40 yard streak and was getting a Superbowl winning throw from Tom Brady himself. Reading that back now after I typed that, that was kind of weird but that's besides the point. I have always been a fan of tall fast receivers is the point I was trying to get across. So when I saw Josh Gordon join the Patriots I was very excited to get another player of this type. I had no idea of his story. We've never seen a player quite like Josh Gordon.
To explain my admiration for Josh Gordon I'm going to throw it way back to the beginning of his story. Josh Gordon grew up in Houston, TX with his Mom, Father, and two brothers. He and his family were considered middle classed for the early stages of Josh's life. When Josh hit the age of 5 or 6, his father was having troubles at his job leading to financial instability in the household. With feelings as if Josh's Dad failed as a father he left the family to fend for themselves. Josh's mother, Elaine Gordon, was on her own to raise the three boys. Stability was a thing of the past for the Gordon's. For years to follow they were bouncing from apartment to apartment while leaving a long line of eviction notices behind. Josh first started running into trouble when he was in middle school. During his middle school years, Josh was expelled from two different middle schools. Josh recalls that he began his marijuana use in seventh grade. Josh has never really publicly complained about his home life as a kid but from what we can tell it was not the best. Josh was a lonely, anxiety filled and depressed kid. Josh chose drugs as his escape from his demons. When Josh was in seventh grade he was given a Xanax bar by one of his friends. Instead of taking half the bar like he was supposed to, he took the whole bar. Josh says he remembers drooling on his desk in class and all of his classmates laughing at him because of that. Josh was a socially awkward kid and this was very tough for him. The drugs made him not have to worry about a thing. Even though Josh had a rough track record in middle school, he was still able to receive a scholarship from Westberry Christian School. We all know the stereotype of private school kids. Preppy, rich, and all grew up in nice stable homes. If you're a kid who is suffering from, generalized anxiety, social anxiety, depression and you have a drug addiction, private school is not the place for you. This is because all of the kids around Josh were privileged and had a lot higher social status than that of Josh and his family. This would make Josh feel bad about himself. Eventually he got himself kicked out of private school and was forced to go to Lamar High School. He went from a school with roughly 600 people to a school with around 4,000. This is not a good transition for someone who is suffering from social anxiety. Around the same time he transferred is around the same time Houston's crime rate sky-rocketed. Josh joined a gang in order to protect himself once this happened. Josh's high school teammates recall Josh getting teased because of his living conditions. Most people would snap back with something to say, but socially awkward Josh just let it build up inside of him. Josh began getting into all sorts of bad situations. He was selling counterfeit money, selling every kind of drug you can think of, robbing homes, and even getting into shootouts. As far as Josh knows, he never hit anyone. However, he himself was shot in the arm while he was a junior. Josh smoked weed everyday, drank vodka in school during class, and drank lean to help him fall asleep at night. A 16 year old kid with anxiety getting involved in shootouts and all this other trouble is most certainly going to find a way to cope with it. This was the common way of coping and the only one available to Josh at the time. He got so bad he started to get drunk before games. A few days after Josh's 17th birthday he was arrested and spent 35 days in jail. Once released, Josh was placed on probation. This is why he attended Baylor, he couldn't leave Texas. Freshman year Josh was selling over six pounds of weed a week. Sophomore year Josh was starting to show his potential on the field. Soon after the season started, Josh and a teammate fell asleep in the Taco Bell drive-thru and were charged with possession of marijuana. Josh never made it to his junior year at Baylor because he tested positive on a drug test and was kicked out of the university. However, Josh still had offers lined up from other colleges. So, he started his adventure out west to visit schools. Josh was smoking weed the entire drive and popping adderall just to stay awake. He had received an offer from the University of Utah and when he made it there he was tired because the drugs had worn off. So, Josh said screw it and decided on Utah for his next college. He got sent home after one year at the school and then failed his first drug test at the school. He went home and then heard about the NFL Supplemental draft. Josh stumbled upon it just like everything else in his life. Josh once said, "I figured, I'll find out if I have what it takes to play in the NFL. Give that shit a sh-- a shot.". He was later the second pick in the draft by the Cleveland Browns.
Stephen A. Smith started the whole narrative of "Just stay off the WEE-DUH". If Stephen A. did a little research he would know Josh has tested positive for more than just weed. Most of his suspensions say, "illegal substance". One report even said, it was not weed. Obviously Josh Gordon has a mental illness but clowns like Stephen A. Smith like to run around yapping about how he's a waste of talent, and can't get off weed. Josh Gordon grew up in a terrible situation with multiple mental illnesses and did not have the tools to get proper help such as a therapist or a prescription for anti depressants such as Prozac or Zoloft. So, he fought his demons the only way he knew how. Drugs. And a 7th grader isn't gonna worry about what the long term effects of drugs you're taking are. I solely believe addiction is a mental illness. However, the addiction is a choice. What I mean by this is the illnesses such as anxiety and depression Josh suffered from were not his choice, but how he dealt with it was and that is what lead to his addiction. He is a freak athlete. He run's a 4.3 40 yard dash. That's unheard of. Obviously he has entered rehab before and it didn't work. He was with the Brown's when they were nothing but a dumpster fire. Their first priority wasn't to help Josh properly, he was surrounded by people like Johnny Manziel who also suffered from addiction. Now he's in New England where it seems like they really want to help him. Josh was here for half a season and he already refers to the team as family. He has Bill Belichick and Tom Brady to keep him in line. He recently was reunited with his daughter too and has recently said this time in rehab he is there to fix himself, and not for a publicity stunt. He is there for his daughter, his family, his teammates and even his fans. I don't support drug use as addiction runs in my family. However, I cannot hate on Josh at all for the way he fought his demons. I fight my demons the way I feel I need to, and he does the same. I feel an admiration and love for Josh Gordon. He is truly an inspiration to myself personally and will go down as one of my favorite football players of all time. I have faith and high hopes for him when he returns. Please try to remember how serious mental illness is, and if you know someone or are suffering yourself know that life works out and everything will be alright. Please, please, please talk to someone or get help from your doctor if you feel necessary.
Follow me on at @TheSlimbert
The Slimbert